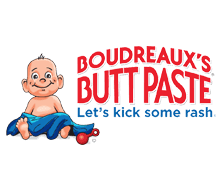 Boudreaux's® Butt Paste®
Let's kick some rash.
The original pharmacist-formulated butt paste treats and prevents diaper rash with every changing.
Provides the thickest barrier of protection against diaper rash* 
Paraben, preservative and phthalate-free 
Pediatrician - recommended  
*based on viscosity measurements of Boudreaux's® Original Butt Paste® versus leading zinc oxide diaper rash cream and ointment brands.